john111_x
PC Kicker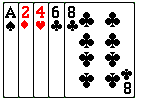 Joined: 30 Jun 2011
Posts: 3


2021

2000

0

1500.00


| | |
| --- | --- |
| Posted: 01.07.2011, 07:10 | |
---
I just got a royal

flush

and I realized its the only straight/royal

flush

I have had since I started playing back in August. I was curious and looked up the odds and its was ridiculous how small the chances were. I got 649,740 to 1.

I was wondering how many royal/straight flushes the people here who have been playing for huge periods of time for many years have gotten.

Like can you guys keep track, or what? I'm just curious as to how many the people here have gotten since they started playing.
cocakolakid
PC Boater






Joined: 14 Apr 2009
Posts: 388
Location: Toronto, Canada

211768

2000

0

1500.00


| | |
| --- | --- |
| Posted: 01.07.2011, 09:18 | |
---
I have gotten 3 royal flushes - two while playing online, one of which was at a ring table where it qualified for a $1000 royal

flush

bonus.

_________________