ojisplayin
Royal PCer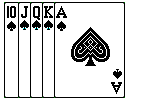 Joined: 03 May 2008
Posts: 3992
Location: Livin' in SinCity!

694177


2000


0


1500.00


| | |
| --- | --- |
| Posted: 12.05.2011, 09:45 | |
---
This is 2nd of 12 "tips" so stay tuned!

2. You should never try to get even "for that night or session."
(Winners KNOW this, in poker and in life)

You'd be making meaningful decisions, pursuing a meaningless goal.
SO.....Trying to get even, is a meaningless goal.

Your objective is simple: Make Best Decisions, Always. *GO see Tip 1*

Don't view each gambling session, each financial venture, as an individual hand to be won or lost.

In poker, it's better to:
win $10,000, lose $2000, and lose $500- (3 hands)
than it is to-
win $4,000, win $998 and win $2- (3 hands)

In the first case, you won $7,500, in the second, only $5000.
But most people feel better about the second, with all wins.
Such feelings are natural, but they're also very dangerous.

If we agree that $7,500 is better than $5,000, then we agree it doesn't matter where the profits came from(1 win or 3, etc).

~THE BEST DECISION IS ALWAYS, ALWAYS MORE PROFITS~


Stay tuned for Tip 3...


_________________