ojisplayin
Royal PCer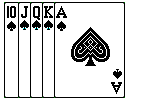 Joined: 03 May 2008
Posts: 3987
Location: Livin' in SinCity!

694168


2000


0


1500.00


| | |
| --- | --- |
| Posted: 22.05.2011, 18:29 | |
---
TIP # 9 OF 12, STAY TUNED...

(FYI- MIKE CARO IS THE "MY" IN MY SEMINARS, ETC,)
GOOGLE HIM, YOU WILL FIND MANY GREAT ARTICLES & MORE!!

9. Act last.

Almost no one realizes the importance of acting last. At my poker seminars, I teach how important it is to understand your position at the table.

Players must act in turn, and those who act after you have an advantage because they get to see what you do before they make their decisions.

So, I teach that you should use psychology and make friends with players who act after you. They'll then be less motivated to exploit their advantages.

This works in life, too. Befriend those who have an advantage, so they will be less motivated to make it difficult on you. That's important, and I'll repeat it:



In life, make friends with those who could do you the most damage.



You should usually strive to gain advantages, and especially by acting last.
If you're sure that everyone will have an equal chance to act, it's better--with few exceptions--
TO WAIT AND SEE WHAT OPPONENTS DO, THEN ADAPT YOUR STRATEGY ACCORDINGLY.

In poker, we call it a positional advantage. So in real life, let's call it the same, positional advantage..

_________________

broxi
Royal PCer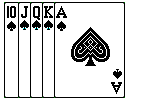 Joined: 15 Dec 2007
Posts: 1710
Location: scotland

272317


2000


0


1500.00

| | |
| --- | --- |
| Posted: 22.05.2011, 19:48 | |
---
more useful advice patti thank you, guess its similair to keep your friends close and your enemies closer, look forward to part 10 tomorrow, the countdown begins

_________________