sunspun
PC Player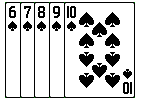 Joined: 31 Dec 2005
Posts: 648
Location: Oklahoma

79971


2000


0


1500.00


| | |
| --- | --- |
| Posted: 30.03.2006, 05:43 | |
---
from http://for-wpt-en.isismedia.com/index.php/page-introduction-to-casino-poker.html

Poker, not baseball, is the national pastime. Think about it. How many people actually play baseball? Every week millions of people across America gather in kitchens and dining rooms to play the game that enthralled Wyatt Earp, Buffalo Bill and countless other historic personalities. Most people's poker knowledge begins with communal experience. It's further influenced by a ubiquitous scene from films and television. Four or five people are sitting at a round table. A single bright light shines from above. The year is 1880 or maybe 1920. Each person is holding five cards. The bad guy throws some cash into the pot and says, "I'll see your $800 (dramatic apuse) and raise you $3,000." Then he tosses another stack of bills onto the pile.

Casino poker is nothing like that. Even the basic game is different. You'll be hard-pressed to find five-card draw or any contest with wild cards. The two most popular poker versions for professionals and semi-professionals (whom you will surely encounter in a casino) are seven-card stud and Texas

hold 'em

. Other common poker versions include Omaha and lowball.

_________________